The cryptocurrency market has recovered after a tough weekend. At $2.53 trillion, its total cap has risen by around 8% in the 24 hours. Pretty much every major coin has risen along with the market, with bitcoin (BTC) and ethereum (ETH) rising by 6.5% and 10%, respectively. However, with the market still down over the past 30 days, traders may be looking for lower priced coins to snap up. Accordingly, we've compiled a list of the 5 best cryptocurrency to invest in on low prices. This largely covers coins priced at around $150 or less.
5 Best Cryptocurrency to Invest In On Low Prices
1. Polygon (MATIC)
MATIC is up by an impressive 30% in the past 24 hours, at $2.34. This represents a 29% rise in the last week and a 50% rise in the past fortnight.
MATIC is now 10% below the all-time high of $2.62 it set on May 18. Its technical indicators suggest that it could break this record in the not-too distant future. Its relative strength index (in purple above) shows good momentum, hovering around the 60 area. At the same time, its 30-day moving average (in red) has also flown past its 200-day average (in blue), hinting at a significant breakout.
The cryptocurrency's case is strengthened by its use case and fundamentals. As a layer-two scaling network for Ethereum, high ETH fees have boosted it in recent days and weeks. At the same time, it's rolling out a number of upgrades and new dapps that make it more desirable as a network.
For example, it announced the launch of a zero-knowledge rollup solution called Miden on November 16. This will be deployed and developed in phases, with ZK rollups allowing for transactions to be batched. As a result, Polygon will become more scalable and efficient over time.
1/7 💫 We are proud to reveal the newest member of the Polygon family – Polygon Miden, an upcoming STARK-based, EVM-compatible Rollup!

The project is led by @bobbinth, former Facebook's lead ZK researcher who led the development of Winterfell.

A 🧵 on why this is exciting… pic.twitter.com/5RqAJgnZlP

— Polygon | $MATIC – We're hiring! (@0xPolygon) November 16, 2021
Likewise, recent weeks have also brought launches of new apps or platforms. To name only one, the IDEX decentralised exchange launched on December 1, and quickly accumulated $24 million in total value locked in.
Just 5 days since launch on @0xPolygon… 🤯

📌 TVL: $24,000,000
📌 Total Volume: $40,000,000
📌 Total Trades: 175,000

Plus, over $25,000 earned in staking rewards.

Probably nothing. pic.twitter.com/c7yw5hYoEo

— IDEX (@idexio) December 6, 2021
This all highlights how Polygon continues to grow. And with it, MATIC is likely to grow in price too. This is why it's one of our 5 best cryptocurrency to invest in on low prices.
2. Bitcoin SV (BSV)
BSV is currently enjoying a rare moment in the spotlight. At $150.45, it has risen by 31% in 24 hours. It is, however, down by 11% in the the last 30 days.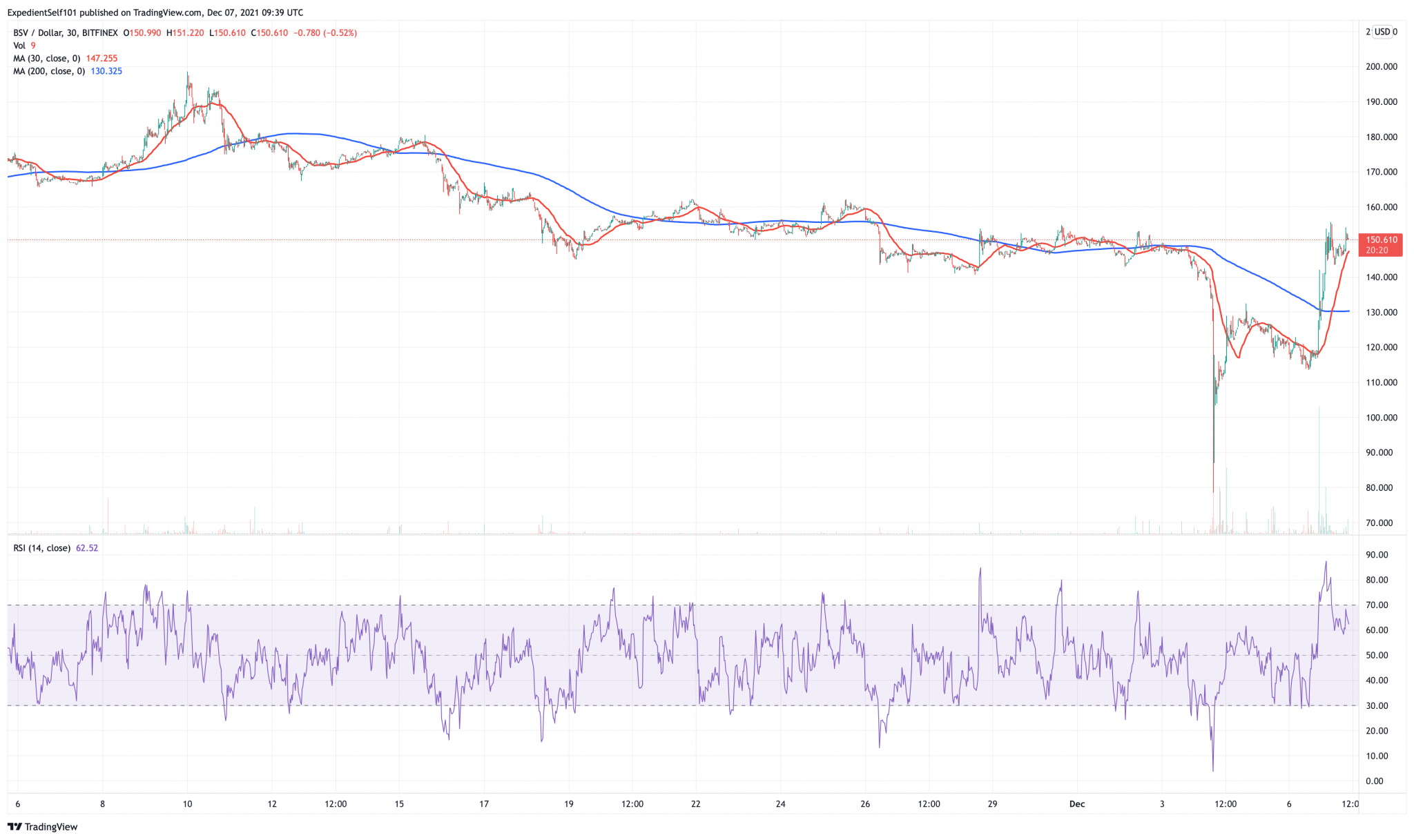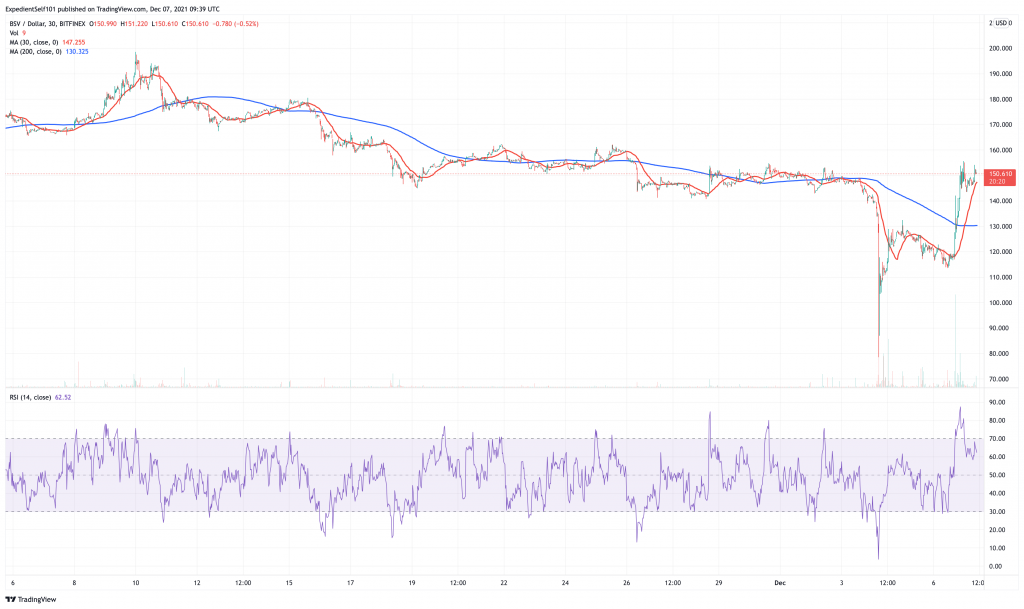 BSV's indicators suggest a breakout. Its RSI has shot up to nearly 70, indicating strong momentum. On top of this, its 30-day average has bounced well above its 200-day average.
So why is BSV rallying right now?
Well, Craig S. Wright has won a court case in Florida. The co-founder of Bitcoin SV, Wright has infamously claimed to be Satoshi Nakamoto, the pseudonymous creator of Bitcoin. Most of the wider cryptocurrency community is sceptical of these claims. However, the jury presiding over his Florida court case ruled in favour of Wright in his dispute with the estate of his former business partner David Kleiman. Both sides have claimed ownership over the 1.1 million BTC originally mined by Nakamoto. But in ruling in favour of Wright, the court has decided that the latter does not have to share any of the 1.1 million BTC with Kleiman's estate.
This has created the impression that the the jury has agreed that Wright really is Nakamoto, even if it has really issued a judgement only in relation to the dispute between Wright and Kleiman. As such, BSV is rallying strongly. And it may continue doing so for as long Wright and the Bitcoin SV community can ride the verdict.
3. Loopring (LRC)
LRC is up by 33% in the past 24 hours, at $2.51. On the other hand, it's down by 12% in the past week, but up by 93% in the last 30 days.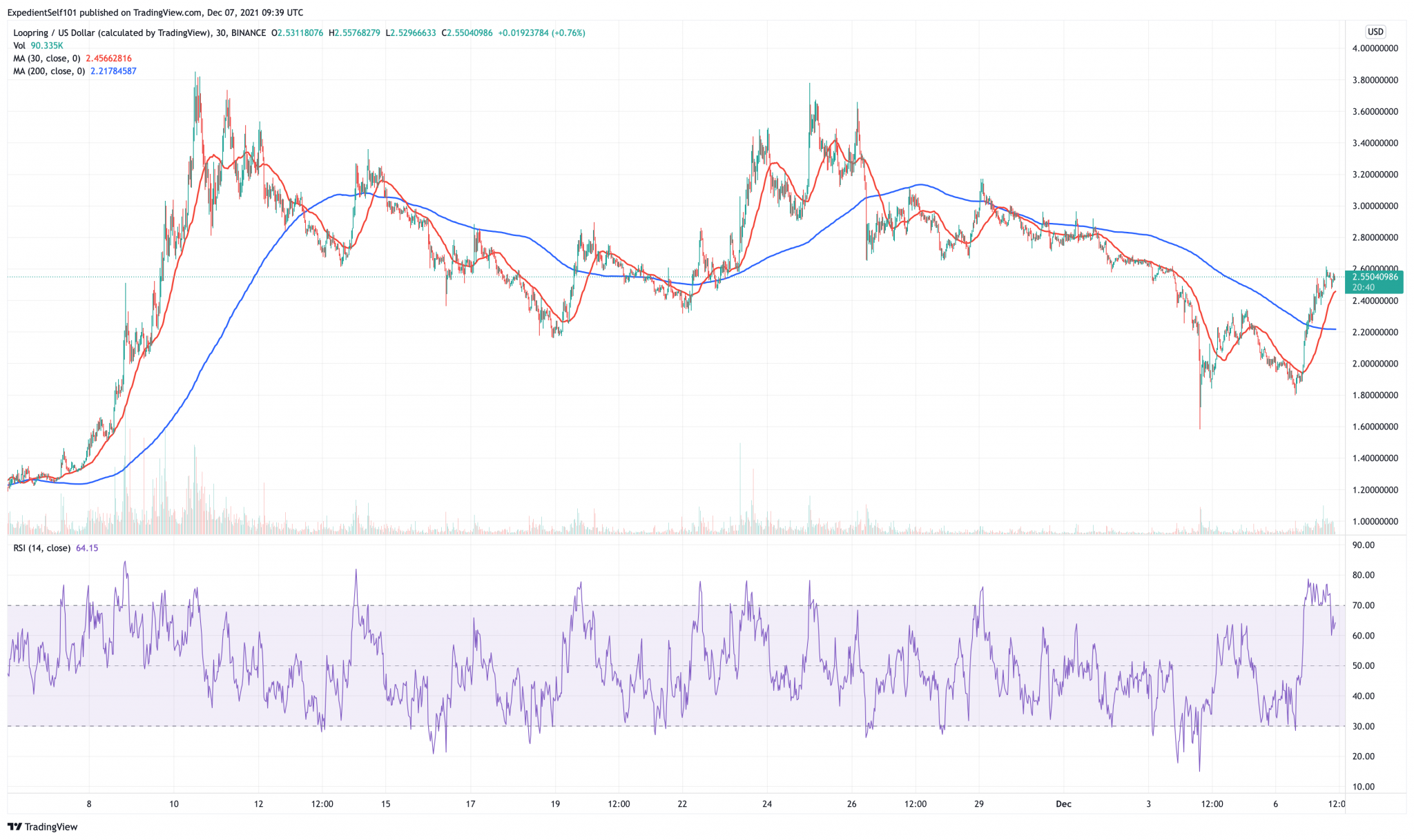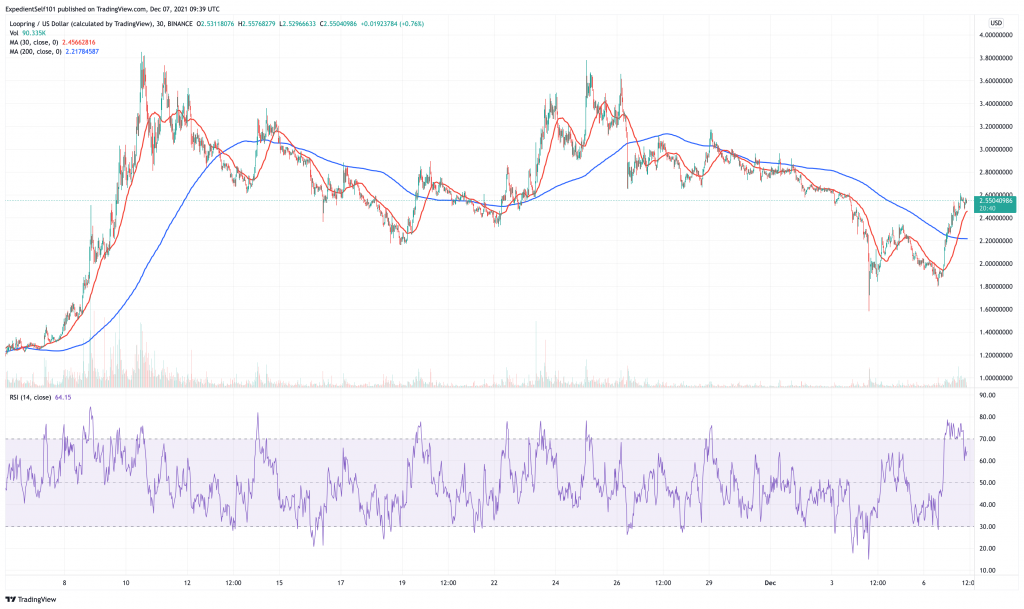 LRC is another coin rallying strongly right now. Its RSI is nearing 70, while its 30-day average has produced a 'golden cross' with its 200-day. This suggests that it may be moving to a new level.

As with MATIC, LRC is the native token of a layer-two scaling solution for Ethereum. Making use of zero-knowledge rollups form its inception, one of its main distinctions is that offers very low fees in comparison to other layer-two protocols.
1/85th the cost, same great Ethereum taste

L2 swaps hit different pic.twitter.com/BQoWh09OWR

— Adam Browman (@A_Browman) November 8, 2021
Loopring has really only come to prominence in the past few months. However, it has now passed $3 billion in total volumes traded, indicating just how strongly it's grown. This is why it's one of our 5 best cryptocurrency to invest in on low prices.
Over $3 BILLION traded on Loopring L2 with no gas-fees🔥

What are you waiting for? Connect your wallet👇
➡️https://t.co/MUxSeUlBgr pic.twitter.com/eKnm4C5O9T

— Loopring (@loopringorg) November 23, 2021
4. Avalanche (AVAX)
At $94.11, AVAX has risen by 19% in the last day. It is, however, down by 20% in the past week and by 30% in the past fortnight.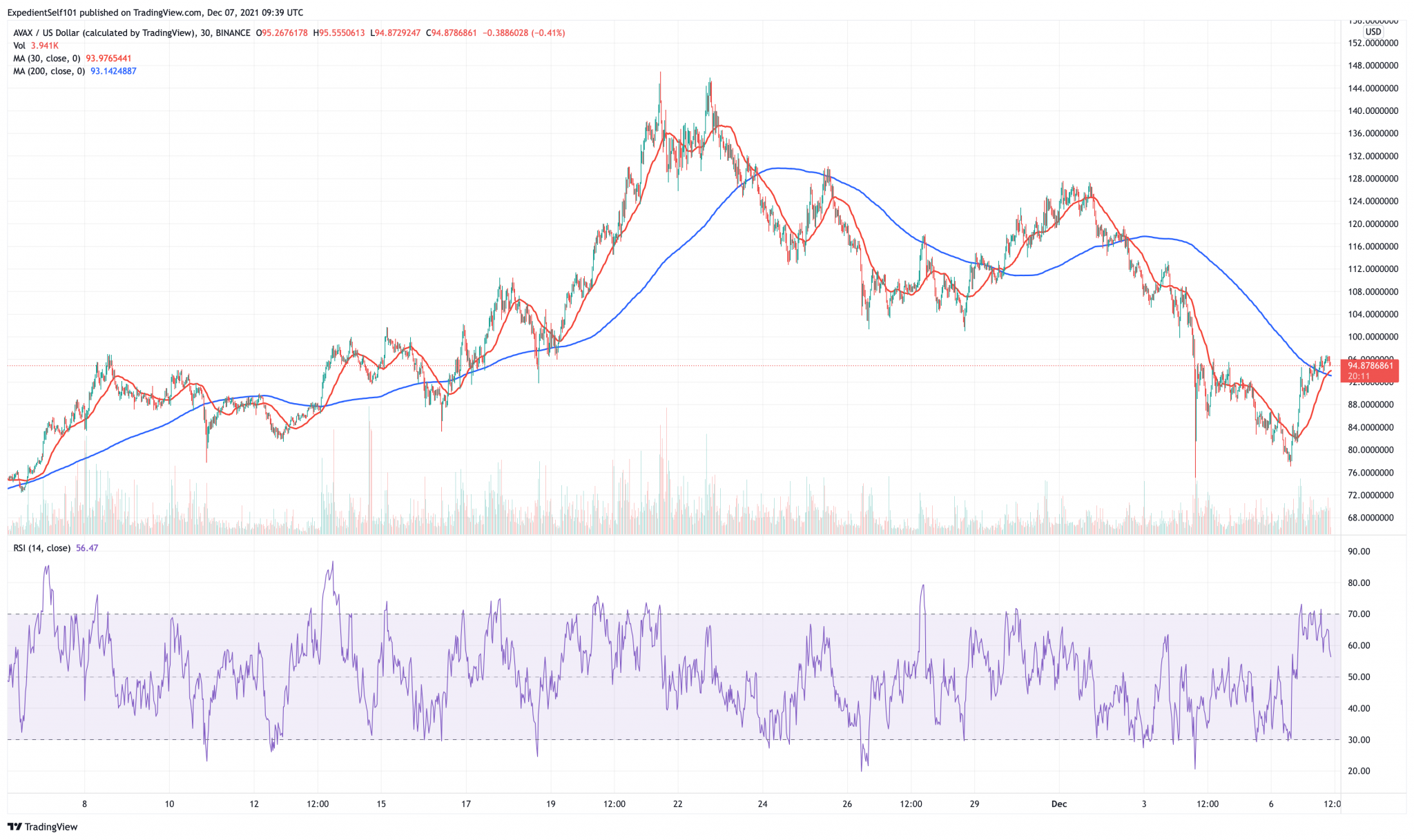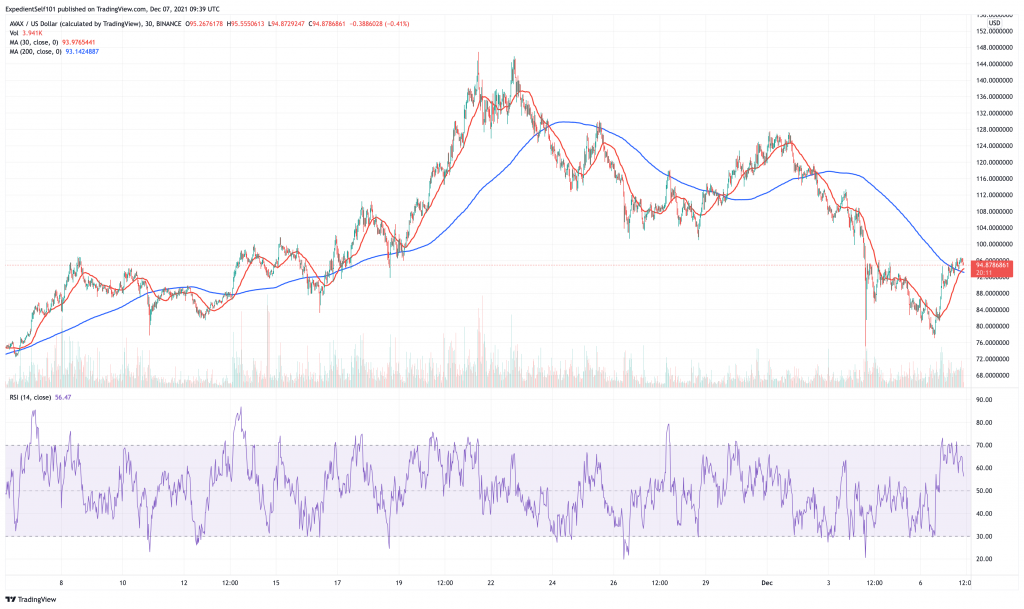 AVAX's recent dip provides a great opportunity to buy a highly promising altcoin on the cheap. Its 30-day average has only just risen above its 200-day average. This means it may have only just begun a significant rally.
Impressively, AVAX's native platform, Avalanche, now accounts for $12.45 billion in total value locked in. This compares to only $3.88 billion on October 1, representing a rise of 220% in a couple of months.
It's very likely that Avalanche will continue growing strongly in the future. In early November, the platform launched a $200 million fund dedicated to boosting development of its ecosystem. Coupled with its famous $230 million investment from Polychain Capital and Three Arrows Capital in September, this suggests it could go a long way.
The Avalanche Foundation has launched Blizzard, a $200M+ fund dedicated to accelerating development, growth, and innovation across the #Avalanche ecosystem.

Check out the full details below ⬇️https://t.co/AR25D8E2lL

— Avalanche 🔺 (@avalancheavax) November 1, 2021
5. Decentraland (MANA)
MANA is up by 20% in the past 24 hours, at $4.04. This may be a 17% fall in the past week, but MANA is also up 42% in the past 30 days.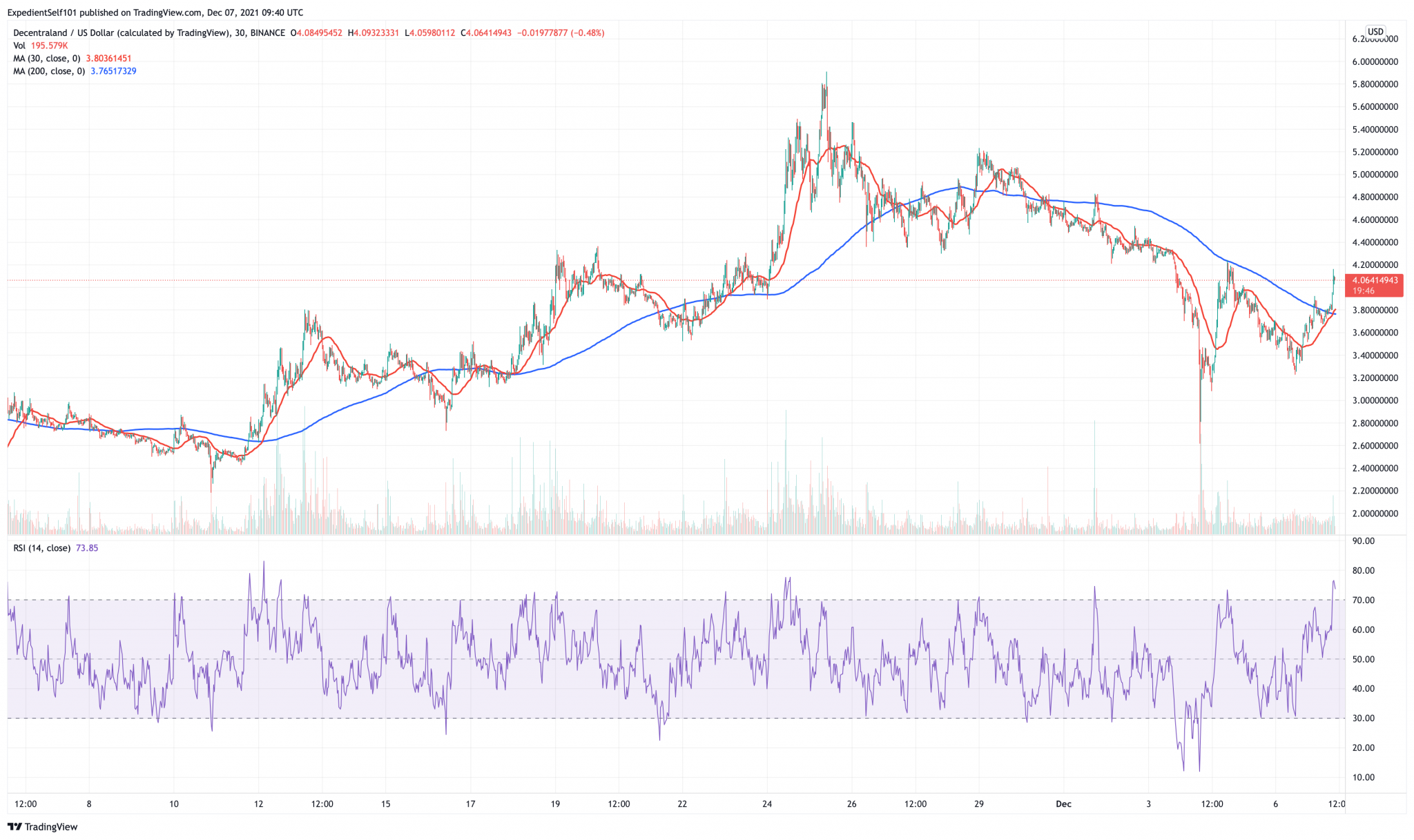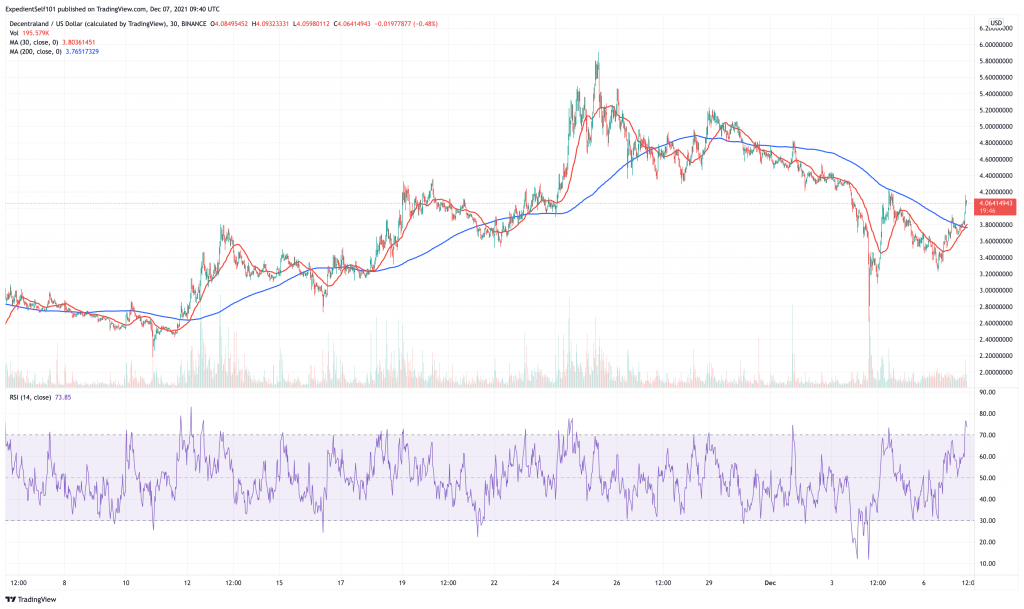 MANA's indicators also suggest the beginning of a potential breakout. Its 30-day average has just crossed its 200-day, which may indicate a new surge.
MANA also benefits from being a highly fashionable coin. It began a medium-term rally when Facebook rebranded to Meta on October 28, thereby making the 'metaverse' a hot topic. As one of the earliest blockchain-based gaming platforms, its pre-established community has enabled it to reach a series of new all-time highs in recent months.
It has also witnessed a series of big virtual land sales in recent weeks, including a sale completed on November 23 worth around $2.3 million.
The @dcllandbot having fried its circuits, we're pleased to officially announce the largest metaverse land purchase ever! Congrats to @tokens_com and @Metaverse_Group for securing a 116 parcel estate in the DCL fashion precinct. And if you're in the fashion industry – get ready! pic.twitter.com/IGyb4nbZQW

— Decentraland (@decentraland) November 23, 2021
Decentraland will continue to experience strong competition from Sandbox and Gala Games, but it arguably has early mover advantage over many of its peers. This is why it's one of our 5 best cryptocurrency to invest in on low prices.
Capital at risk
Read more:

Credit: Source link