Multi-chain solutions, commonly called layer 2, have become hot digital tokens in the past year due to their low price and high returns. Given this, investors are looking for the top layer 2 crypto to buy as this minor crypto class gains steam.
While Polygon is the most recognised scaling solution out there, several top-performing layer 2 protocols are changing the very face of the crypto market.
1. Polygon (MATIC)
Starting our best layer 2 crypto to buy list is the Polygon Network. Polygon was initially in 2017 as Matic Network by a trio of Indian developers, but the blockchain protocol only found its feet this year. Matic Network rebranded to Polygon early this year and has not looked back.
In an introductory post, Polygon noted that its system is designed to solve the scalability and usability issues plaguing the Ethereum network while leveraging the Plasma framework and a decentralised network of proof-of-stake (PoS) validators.
Polygon essentially lifts transactions off the Ethereum mainnet and validates them off-chain before adding them back.
This reliance on PoS validators has made Polygon one of the fastest scaling solutions and blockchain protocols with a maximum transaction speed of 65,000 TPS.
This speed has engendered the protocol to users who use the Ethereum scaling solution due to its speed and cost-effective transactions.
Price-wise, the Polygon token MATIC has been one of the top-performing digital assets while occupying the 14th spot on the most valuable crypto assets ranking.
MATIC is trading in the red zone with a $2.333 current price peg at press time. This price reflects a 24-hour decrease of 3.17%, but the weekly gains stand at 9.87%.
Polygon is one of the top spots for many protocols in the aspect of adoption. In a recent tweet, a decentralised staking platform ClayStack is launching on the Polygon network.
2. Loopring (LRC)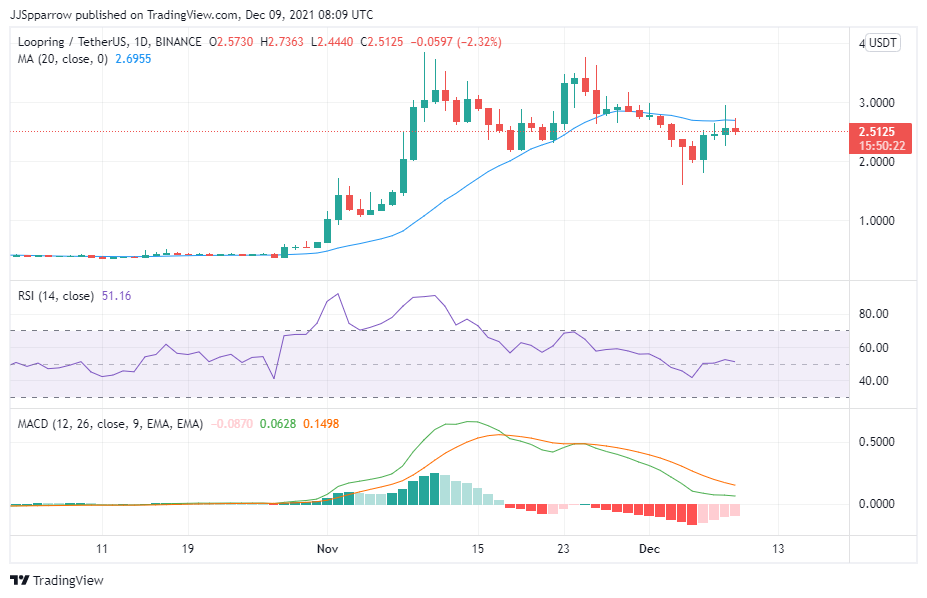 Also focused on the Ethereum network, Loopring is one of the top layer 2 crypto to buy as the scaling solutions ecosystem expands.
Loopring is an open-sourced, audited, non-custodial protocol that allows users to build non-custodial and order book-based exchanges on the Ethereum network.
The zero-knowledge (zK) protocol caters to high throughput, low-cost trading and payment for users on the Ethereum network.
This way, decentralised finance (DeFi) users can easily trade, swap, provide liquidity and enable payments while not sacrificing the security of the foremost smart contract network.
Loopring has largely been a quiet competitor in the layer 2 battle with Polygon, but the zKRollup protocol has begun to gain investor interest in the last two months.
This new popularity saw its governance token LRC surge to an all-time high (ATH) of $3.75 on November 10 following reports of a likely partnership with brick-and-mortar video game retailer GameStop.
Loopring is making a comeback and is up 3.34% in the last 24 hours. This increase sees the ERC-20 token trading at $2.5125 while boasting a 1,363.11% increase year-to-date (YTD).
3. OMG Network (OMG)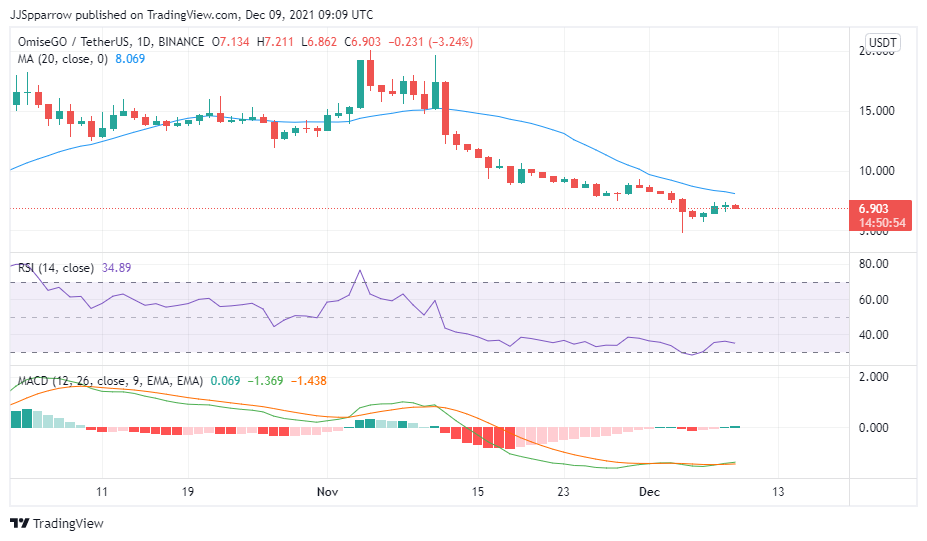 OMG, formerly known as OmiseGo, is another top layer 2 crypto to buy now as scaling solutions become more relevant to Ethereum's future.

OMG Network uses a novel scaling solution called MoreVariable Plasma which allows faster transactions and cuts down transaction costs by one-third of the amount usually paid if users transact directly on the Ethereum blockchain.
The Plasma framework groups all transactions into a batch off-chain and then validates them as a single transaction on the Ethereum blockchain, making it less resource-intensive for users.
The OMG Network utilises a governance token of a similar name called OMG, and the digital asset is used to settle network fees on the network.
Price-wise, the OMG token has been on a roller-coaster, with the ERC-20 asset down 72.9% from its ATH of $25.62 in 2018.
However, the digital asset is set for a comeback as OMG has surged 178.09% YTD and is currently trading at $6.903, down 1.58% on the daily chart.
OMG currently boasts of $962 million in market cap and has a 0.04% market dominance in the nascent industry. Adoption-wise, Bitfinex Derivatives platform, under the Bitfinex umbrella, has added support for the OMG token.
4. ZKSwap (ZKS)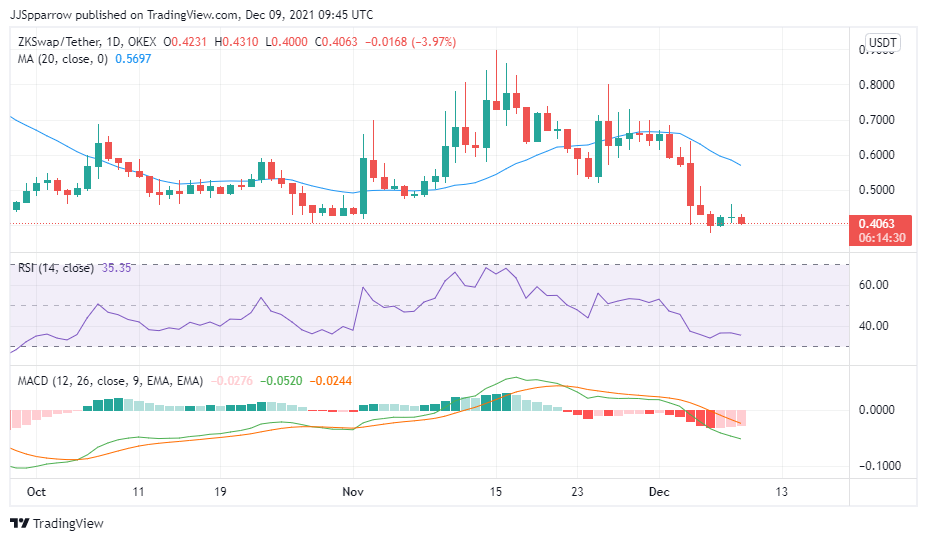 Another top layer 2 crypto to buy is token exchange protocol ZKSwap. While others are focused on scaling the Ethereum blockchain, ZKSwap operates principally as a decentralised exchange (DEX) built with ZK technology.
The protocol operates as an automated market maker (AMM) and enables users to trade ETH and other ERC-20 tokens.
Users can also receive utility token ZKS through community mining. Bolstering high throughput, ZKSwap enables users to enjoy subsidised gas fees and complete decentralisation and privacy.
ZKS has kept in tune with the broader crypto market as the digital token hit an ATH of $11.24 in late February 2021.
However, its current price peg of $0.4063 shows that ZKS has dipped 96.4% from its ATH. Meanwhile, this is not entirely bleak, as the digital token has since boomed 75.7% from its all-time low price of $0.233 in early January.
ZKSwap is currently working on launching its V3 testnet upgrade. The scaling solution from L2 Labs Foundation will feature non-fungible tokens (NFTs) support and optimised efficiency and multi-chain support.
5. Skale (SKL)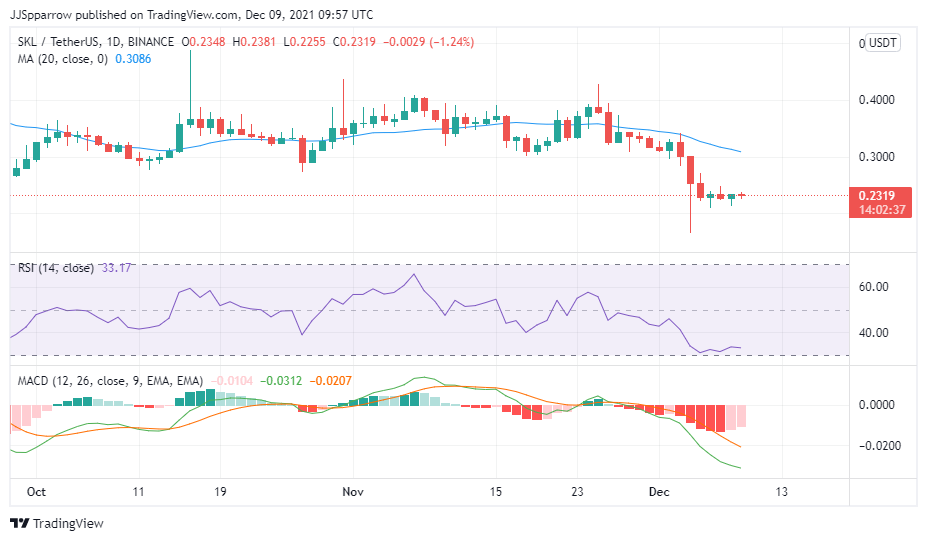 Last but not least on the top layer 2 crypto to buy is Skale Network. Skale Network is an elastic framework that seeks to address the scalability issues surrounding the Ethereum network. Given this, the scaling solution enables high transaction output while reducing network latency and cheap fees.
Skale Network enables development teams to run smart contracts on its protocol, and content streaming and gaming services currently leverage Skale's framework to build.
Recently, the first black-owned NFT platform 360NFT.io launched on the Skale Network, further increasing the network's appeal.
At press time, SKL is trading at $0.2319, up 2.96% in the past 24 hours. This price is bolstered by a YTD increase of 194.36%.
Read more:

Credit: Source link