Dusk Network is at the tip of the spear in developing Zero-Knowledge proof technology and breakthrough cryptography. It has now published its second 2021 bi-annual report, detailing how it is rethinking privacy and finance in order to disrupt and re-build the financial ecosystem.
Technological breakthroughs
Dusk Network has become the leader in its field with its research and development into advances in zero-knowledge cryptography. Its PLONK technology introduces an updateable reference string giving improved scalability and blazingly fast proving and verification times.
In combination with PLOOKUP, costly zero-knowledge operations become feasible with precomputing lookup table combinations.
The SBA (Segregated Byzantine Agreement) Consensus gives the immediate settlement finality for financial dApps and security tokens that require transactions to be final and irreversible as soon as they are processed.
The RUSK zero-knowledge proof virtual machine enables anyone to program powerful privacy smart contracts.
And finally, Dusk Network's hashing algorithm, Reinforced Concrete, provides the speed and performance that puts it well beyond the rest of the field.
Financials
Dusk Network currently holds assets to the value of $25.5 million, as of 30 September 2021. The Dusk portfolio has some diversity, holding mostly DUSK (73.1%), 19.8% in stablecoins, and 7.1% in fiat currency, held at several banks in multiple jurisdictions.
Dusk is happy to not have to depend on any of its native token reserves, and projects that it will not have to do so until at least 2024. As the network works towards its 1 February Testnet Launch, the majority of its expenditure is being put towards tech development.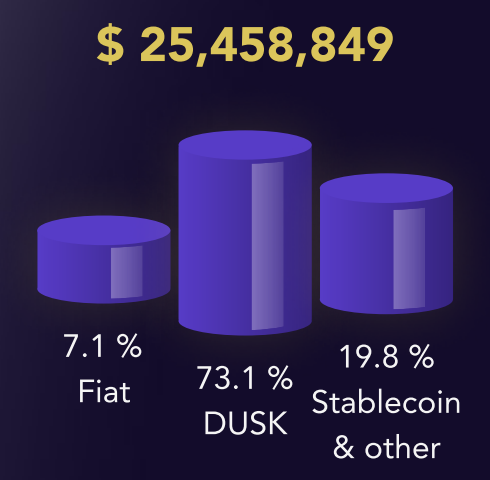 The Dusk Network is now fully orientated towards remote working which means minimal spending on office space.
Privacy in the Metaverse
Metaverse has come into the limelight recently given the simply massive potential for a virtual world that will be able to mimic much of what we have in the real world. Also, the Metaverse has come into the public eye in no small part due to Facebook's CEO Zuckerberg announcing a rebrand of Facebook to 'Meta", and promising to develop its own metaverse.
Dusk Network believes that people should have complete control over their own digital identities and assets, rather than let centralised companies dictate this. Given previous history, allowing such companies to control our data has led to very serious privacy breaches.
Zero-Knowledge Proofs allow people to maintain control of their privacy. With such a shield in place, they can do all they like in the metaverse, such as communicate, transact, and store items publicly, all the time retaining their right to anonymity. Vitalik's latest ZK-proof blogpost really helps to highlight the importance and recognition of such technology.
Helios Dusk Grants Program
Dusk Network wants to accelerate the use of its blockchain and technology by providing the necessary ecosystem tooling and infrastructure. Research papers are another area of focus. The Dusk team knows that research and development go hand in hand, so it is committed to providing funding to those visionaries who can push forward the frontiers of privacy technology.
The Dusk team also wants to fund a wide range of applications and use cases, especially those that demonstrate a high potential for driving the privacy sector forward to mainstream adoption.
Since the launch of the $5M Grants Program, Dusk Network has awarded $50k to the Rkyv library. Rkyv is a deserialisation framework that speeds up the network, built entirely in the RUST programming language.
$50k to $250k has been awarded to the University of Pompeu Fabra Barcelona, for work on ZK Reversion, which aims to keep the network at the forefront of Zero-Knowledge innovation.
Finally, ZKValidator receives a $50k grant in collaboration with Polygon, Deversifi, Aztec, and Aleo, allowing input from sections of the blockchain community as to the most promising applications.
Conclusion
With the Dusk Daybreak Public Testnet launching on 1 February 2022, it will be full speed ahead for the network in its goal to create the first ever privacy blockchain for financial assets.
For this testnet, the onboarding of early adopters and testers will help ensure that those who value privacy will be able to experience it on the most advanced zero-knowledge platform in the world.
Disclaimer: This article is provided for informational purposes only. It is not offered or intended to be used as legal, tax, investment, financial, or other advice.
Credit: Source link