As crypto adoption continues to gain steam, Europe is at the helm for crypto distribution worldwide. At least $5 trillion worth of cryptocurrencies were received between July 2020 and June 2021, representing 35%.
Asia and America come second and third with 28% and 27%, respectively. The Middle East and Africa come a distant fourth and fifth with 7% and 3%, respectively.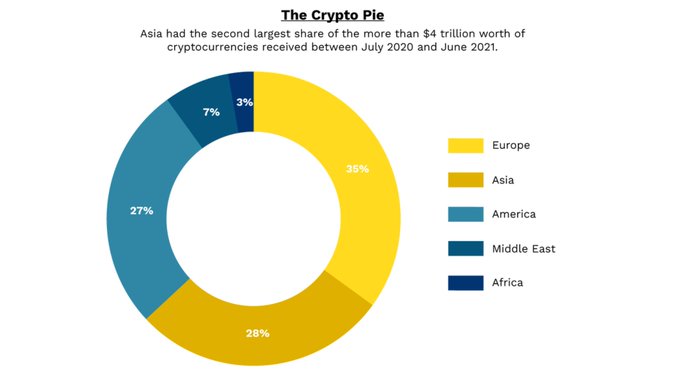 According to a recent study by payment giant Visa, a financial way of the future and building wealth were the key drivers of crypto usage and ownership.
The research also noted that cryptocurrencies emerged as part of the popular consciousness and were poised for additional growth, especially in emerging markets.
Visa recently announced its intention to help financial institutions harness cryptocurrency opportunities and pilot new user experiences and innovations like crypto reward programs through its recently launched advisory services as part of the consulting & analytics division.
Meanwhile, crypto adoption in Brazil was recently boosted after E-commerce giant, Mercado Livre, revealed that Brazilians can trade and hodl Bitcoin.
Bitcoin faces strong resistance just below $50,000
According to data analytic firm IntoTheBlock:
"There is strong resistance just below $50k, where 791 thousand addresses previously acquired 919k BTC. The amount of activity in this range makes it an important barrier for Bitcoin to surpass as many addresses are expected to sell at this contested level."

IntoTheBlock added that BTC ought to hold above $48,000 because there is a possibility of a deeper correction to the $43K area, given that 344,000 addresses bought 395k BTC.
If the $48K level holds, Bitcoin faces little resistance until $55,000, according to the data analytic firm.
Image source: Shutterstock

Credit: Source link